Hi Munchworms!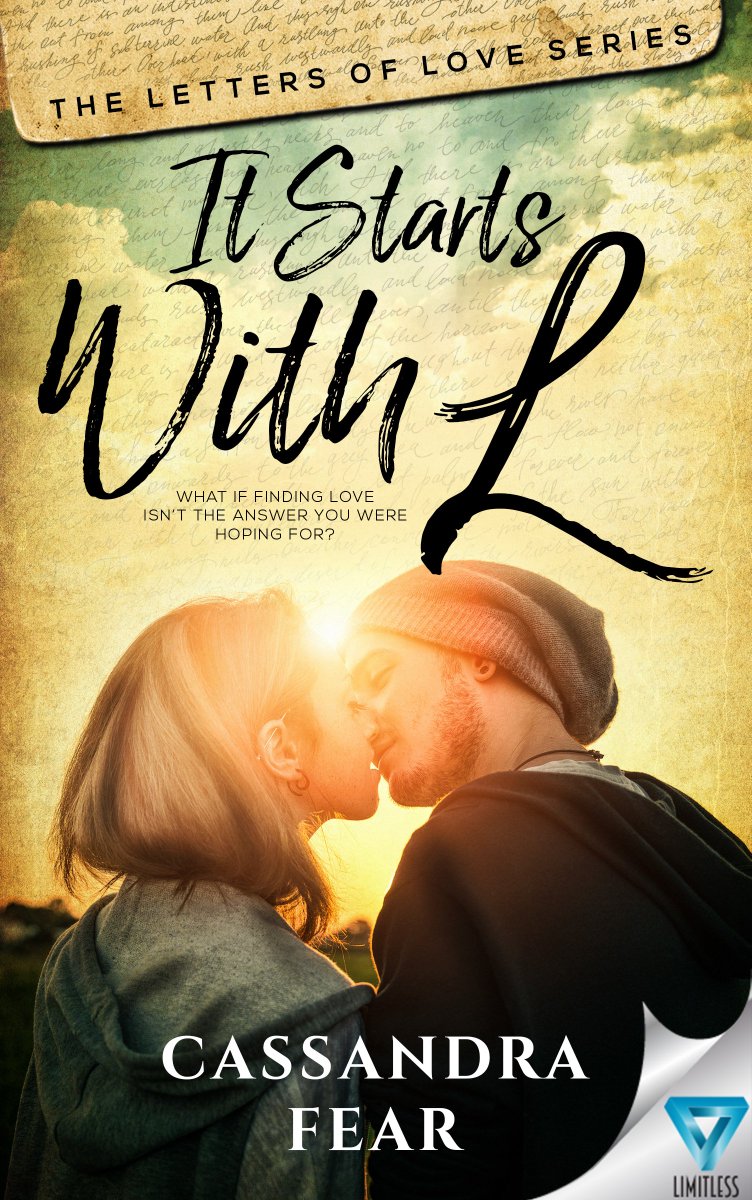 Here we are again, with another review for you guys. This time, It Starts With L by Cassandra Fear.
I got this book thanks to a tweet on Twitter, where I requested to read and write a review for this book. I got lucky and received the e-Book not that long after! So, with this, I want to thank Cassandra Fear for giving me the opportunity to read her book and write a review on it.
I don't know what's gotten into me lately, but I seem to be all over the romantic books all of a sudden. And, if you check out the cover, you can see this time is no different! Romance oozes out of it and it immediately grabbed my attention. Same goes for the synopsis!
High school is tough, and Arielle knows this all too well.

She's slightly chubbier than most of the other girls and gets reminded of this every day. And the fact that she's never had a boyfriend makes her prime meat for the bullying crowd.

But then in walks Blake, the cute new boy who sweeps her off her feet and stands up to her bullies. Instant swoon.

Now with a guy at her side, and the promise of a blooming love, Arielle realizes it's easy to lose sight of what is important. Her best friend, Jess, is on a downward spiral toward disaster, and Arielle needs to find a way to help her.

Unfortunately, Arielle discovers not everything in life is simple. Sometimes things happen, tragedy strikes, and it leaves you with wounds that might never heal.
I always was the chubby – okay, maybe I should just say fat – kid at school. Being bullied was just one of those regular things each day. It felt normal after a while too. Seriously, if you get bullied, talk to someone about it!
Then she doesn't only have to handle new love, but also her best friend who needs her help? Sounded like a book I'd love to read, so here we are!
The first couple of chapters flew past at rocket speed. I felt like I'd just been catapulted in Arielle's world, with nothing to soften the blow. Honestly, it's nice to get sucked into a story that quickly, but on the lesser side… I just missed a whole lot of development. I would've liked a clearer image of how Allie's life was before Blake got thrust into the mix. Maybe the relationship between those two should've developed a little more slowly as well.
I didn't get the time to get acquainted to Arielle, how she feels, how she thinks and that made it less fun to read, honestly. I like feeling like I'm in the story, not just watching at it from afar. Unfortunately, that's exactly how I felt when reading It Starts With L.
It took her a long time to realize she wasn't ugly. Everyone held a beauty inside them which shone on the outside as well. Accepting her beauty had been one of the hardest lessons she'd ever taught herself. She still struggled with it a lot more than she cared to admit.
When it comes to execution? All I can say is it just needed more time. The story needed more time. The characters as well. Development of feelings is such a crucial part of stories for me and it's something I really was missing.
I have to admit that the ending had a nice twist to it, which made me appreciate the story just a bit more.
The story does have a lot of potential and I did like her straightforward way of writing, so for that, I'm giving this book 3/5.
It Starts With L by Cassandra Fear is being published July 18th, so if you're interested, head on over to Amazon to order it!
I was making myself crazy trying to find munches that would fit this book, but I just couldn't for the life of me think of something. Maybe something that makes your brain jump from one thing to the next, something of which the flavors keep changing with each bite you take. But, really, I could not think of such a dish. If you can, let me know!
Kathy
This e-book was provided to me by the author. This is my honest review for which I am not being compensated in any way.
The image of the cover used, is an image I found through Google Image. I claim no rights to this picture whatsoever. Those rights belong to the owner of said picture.