Hi Munchworms!
Time flies when you're having fun, doesn't it? Because it's already time for another Waiting on Wednesday with all the books I'm looking forward to reading! And they are all – seriously, all of them – being published July 25th.
This meme is hosted every week by Breaking the Spine!
Without further ado… The books I'd like to see in my bookshelves by next Wednesday:
Yes, I know this will be so not the case since I've been buying way too many books this month already – to the point of my boyfriend practically strangling me.
If you want to add them to your TBR, just click the cover and Goodreads will magically appear!
---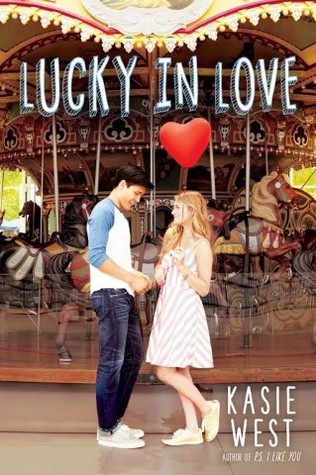 Maddie doesn't believe in luck. She's all about hard work and planning ahead. But one night, on a whim, she buys a lottery ticket. And then, to her astonishment —
She wins!
In a flash, Maddie's life is unrecognizable. No more stressing about college scholarships. Suddenly, she's talking about renting a yacht. And being in the spotlight at school is fun… until rumors start flying, and random people ask her for loans. Now, Maddie isn't sure who she can trust.
Except for Seth Nguyen, her funny, charming coworker at the local zoo. Seth doesn't seem aware of Maddie's big news. And, for some reason, she doesn't want to tell him. But what will happen if he learns her secret?
---
Mercedes Moreno is an artist. At least, she thinks she could be, even though she hasn't been able to paint anything worthwhile since her award-winning piece Food Poisoning #1 last year.
Her lack of inspiration might be because her abuela is lying comatose in faraway Puerto Rico after suffering a stroke. Or the fact that Mercedes is in love with her best friend, Victoria, but is too afraid to admit her true feelings.
Despite Mercedes's creative block, art starts to show up in unexpected ways. A piano appears on her front lawn one morning, and a mysterious new neighbor invites Mercedes to paint with her at the Red Mangrove Estate.
At the Estate, Mercedes can create in ways she never has before. She can share her deepest secrets and feel safe. But Mercedes can't take anything out of the Estate, including her new-found clarity. As her life continues to crumble around her, the Estate offers more solace than she could hope for. But Mercedes can't live both lives forever, and ultimately she must choose between this perfect world of art and truth and a much messier reality.
---
Birdie never meant to be at the party. Bash should have been long gone. But when they meet, a collision course is set off they may never recover from.
Sebastian Alvaréz is just trying to hold the pieces together: to not flunk out, to keep his sort-of-best friend Wild Kyle from doing something really bad, and to see his beloved Ma through chemo. But when he meets Birdie Paxton, a near-Valedictorian who doesn't realize she's smoking hot in her science pun T-shirt, at a party, an undeniable attraction sparks. And suddenly he's not worried about anything. But before they are able to exchange numbers, they are pulled apart. A horrifying tragedy soon links Birdie and Bash together—but neither knows it. When they finally reconnect, and are starting to fall—hard—the events of the tragedy unfold, changing both their lives in ways they can never undo.
---
I posted my review for The Inevitable Collision of Birdie & Bash by Candace Ganger yesterday, so check it out here!
---
Any books in here that you'd like to read as well? Or do you have another book that's being published and are looking forward to?
Let me know!
Kathy