Hi Munchworms!
Normally I'm not a huge fan of posting two times on the same day, but since I have my poll results… I just had to share them!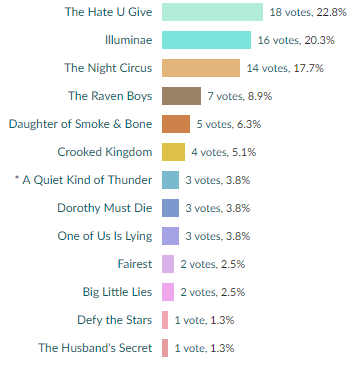 Okay, I'll have to add this: the little star means I voted myself as well. This is not the case, though! My boyfriend decided he wanted a vote as well, but doesn't want / need a Goodreads-account so I let him use mine.
[So I'm not cheating, haha!]
Anyway, this means I'll finally get to read The Hate U Give and Illuminae! Two books in a week should be easy-peasy. The only thing I'm doubting now is whether I'll continue with Gemina after that or hop on to The Night Circus… If I get that far, that is…
I guess I'll see how I feel at that point, haha.
---
If you want an extra entry in my giveaway, send me an awesome picture of one of these books via mail [booksandmunches@hotmail.com] or Instagram [@booksandmunches]!
---
So… I wanted to take a pictures of all the books I'm supposed to be reading and just found out that The Hate U Give never arrived when I ordered it.. It was one of a whole batch of books that never showed up – so I got a refund.
I never thought to check with my poll and now… Well, let's say I have a little problem. I re-ordered it somewhere else immediately. Fingers crossed I'll have it in time! If not, I'll just start with Illuminae, though. Disaster avoided – I hope.
Anyway…
How did your polls turn out? What are you going to read first? Are you as happy with the results as I am?!
Let me know!
And to those participating: good luck, have fun and – most importantly – read a lot! Haha!
Kathy