Hi Munchworms!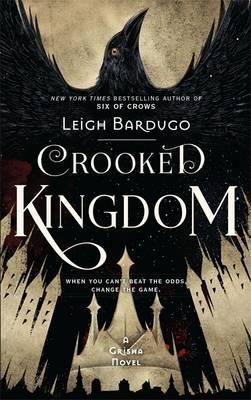 During my road trip, I read multiple books – obviously. Apart from Gemina, I also read the sequel to Six of Crows, Crooked Kingdom! You can probably imagine how much I was looking forward to reading this beauty so I could barely contain myself when I could finally start reading it.
Actually, I cursed about half the world while reading because everything kept distracting me from completely losing myself in Ketterdam. In the end, I won!
Kaz Brekker and his crew have just pulled off the most daring heist imaginable.
But instead of divvying up a fat reward, they're fighting for their lives.
Double-crossed and badly weakened, they're low on resources, allies and hope.
While a war rages on the city's streets, the team's fragile loyalties are stretched to breaking point.
Kaz and his crew will have to make sure they're on the winning side… no matter what the cost.
There really isn't much to say about this. I love Bardugo's writing, I love the whole world she created and I'm really looking forward to reading her trilogy. Yes, the one that I should've read ages ago already… I know! I'm bad!
Sometimes the trick to getting the best of a situation was just to wait. If you didn't like the weather, you didn't rush into the storm – you waited until it changed. You found a way to keep from getting wet.
When it comes to the characters, Wylan was just… so cute! I couldn't help but giggle at all his lovely blushing at times. The way Kaz battles his demons is another part of the novel that I really liked. Inej's part in it has to be mentioned as well, doh.
But oh, the heartbreak at the end of this book… I won't spoil a word for those who haven't read Crooked Kingdom yet. I'll only say: hold your tissues close and prepare for your heart to be shattered. Mine did. Thank the skies I was in my tent when reading the final chapters so nobody could see me shed some tears.
The distance between them felt like nothing. It felt like miles.
I cannot do anything but give this complete duology 5 / 5!
Kathy
I paid full-price for this book. All opinions are entirely my own. I'm not being compensated in any way.