Hi Munchworms!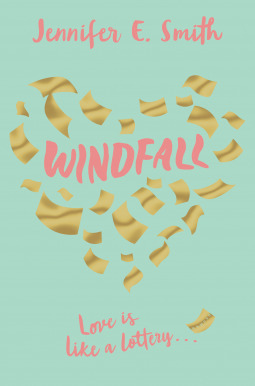 After hearing tons about Windfall, I finally picked it up myself! It's been a long time since I read a book this quickly. Over 400 pages in less than 24 hours! On a workday, might I add!
Alice doesn't believe in luck—at least, not the good kind. But she does believe in love, and for some time now, she's been pining for her best friend, Teddy. On his eighteenth birthday—just when it seems they might be on the brink of something—she buys him a lottery ticket on a lark. To their astonishment, he wins $140 million, and in an instant, everything changes.

At first, it seems like a dream come true, especially since the two of them are no strangers to misfortune. As a kid, Alice won the worst kind of lottery possible when her parents died just over a year apart from each other. And Teddy's father abandoned his family not long after that, leaving them to grapple with his gambling debts. Through it all, Teddy and Alice have leaned on each other. But now, as they negotiate the ripple effects of Teddy's newfound wealth, a gulf opens between them. And soon, the money starts to feel like more of a curse than a windfall.

As they try to find their way back to each other, Alice learns more about herself than she ever could have imagined . . . and about the unexpected ways in which luck and love sometimes intersect.
Let's start of by saying that Jennifer's writing reads so fluently! I read a bit during my break at work and got about fifty pages in. In half an hour! If that isn't proof enough, I don't know what is.
I really enjoyed Windfall. The story itself just grabs you and you can easily imagine something similar happening to yourself or someone close to you.
My thoughts are scrambled by the nearness of him, and my chest aches with something deeper than love, something lonelier than hope.
I felt everything Alice went through, understood her way of thinking from the start and connected with her on a level I didn't quite expect. She really had an impact on me, especially when it comes to her volunteering and wanting to help others in any way possible.
Then we have Leo. Yup, I love him. I wouldn't say he's the typical gay best friend, but he kind of is in a way? On the other hand, he didn't really claim that spot full-on and that made the whole thing even better.
As for Teddy.. I've said it on Twitter, Instagram and God knows where else: I. Don't. Like. Him. I just can't. He feels way too naive, gullible and.. just got on my nerves an awful lot.
Sawyer on the other hand.. Now there's a character I love and could relate to as well. I wish there was more of him during Windfall really.
It's not easy, you know? To get the thing you want most in the world in the worst way possible.
Even though Teddy did frustrate me, got on my nerves and at times made me close the novel and sigh, I still loved it. Alas, he could have.. Should have been a little more grown-up. That would've made it perfect.
4,5 / 5
As for the munches, let us all give one last hooray to the chicken lady! I wanted to go to the market and buy it from an actual chicken lady, but.. Life happened and I never got up on time? How I love my bed…
I paid full-price for this book. All opinions are entirely my own. I'm not being compensated for my review in any way.