Hi Munchworms!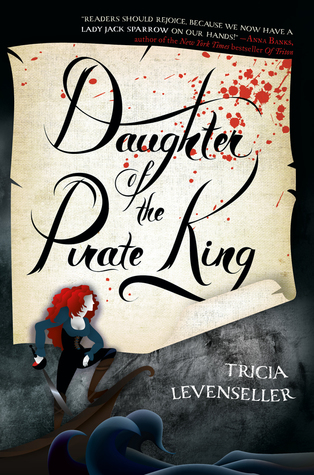 I recently read Daughter of the Pirate King by Tricia Levenseller and I couldn't believe that I postponed reading it for so long! When I opened it, I immediately had to laugh out loud because there was a quote from Captain Jack Sparrow.
And then I remembered someone in the blogosphere had mentioned that to me, which made me add and buy the book in the first place. Honestly, brain, can't you remember things more often?!
There will be plenty of time for me to beat him soundly once I've gotten what I came for.

Sent on a mission to retrieve an ancient hidden map—the key to a legendary treasure trove—seventeen-year-old pirate captain Alosa deliberately allows herself to be captured by her enemies, giving her the perfect opportunity to search their ship.

More than a match for the ruthless pirate crew, Alosa has only one thing standing between her and the map: her captor, the unexpectedly clever and unfairly attractive first mate, Riden. But not to worry, for Alosa has a few tricks up her sleeve, and no lone pirate can stop the Daughter of the Pirate King.
If you want a badass MC with sass, Alosa is definitely the MC you're looking for. She speaks her mind, often doesn't even know when to shut it and fights her own fights. She's simply the kind of character I always fall in love with pretty hard and fast!
And then there's Riden, the first mate battling his own battles during the entire story. You get some glimpses of who he is, why he is like that and whatnot, but I'm really looking forward to finding out more about him. I want to know how he came to be like that, why his brother is so important to him, even though he seems to be treated with such indifference – or was that me?
I am me because I choose to be me. I am what I want. Some people say you have to find yourself. Not I. I believe we create ourselves to be what we want.
Levenseller's writing took me by surprise as well. Although the story itself felt slow-paced in a way, it also got a hold on me. I kept reading, kept reading and then.. it was finished and I'd read the whole book in a matter of hours?
It was my first time reading a book about pirates and with Jack Sparrow being my all-time favorite pirate, I'm so glad to have found a book like this that I love! Definitely looking forward to the sequel – which is being published in February 2018 by the way.
5 / 5!
As for the munches, I'm going with yummie soup. It's cold outside and being at sea, I can imagine myself craving something to warm you up, make you fuzzy. Soup's what does that for me, so there you go!
Have you read Daughter of the Pirate King? What did you think?
Don't forget to check out my giveaway!
I paid full-price for this book. All opinions are entirely my own. I'm not being compensated for this in any way.