Hi Munchworms!
Waiting on Wednesday is a weekly meme hosted by Breaking the Spine and gives us a chance to show off the books we are really looking forward to.
I was so busy last week that I had to skip Waiting on Wednesday back then. I'm still horrified about it, haha. So not my style! But, to be honest, I'm running out of scheduled memes so I need to get on top of that again. The planning life of a book-blogger, whoo!
Anyway! Here are some books that are being released next Tuesday!
As always, just click the cover to go to Goodreads!
---
November 14th
---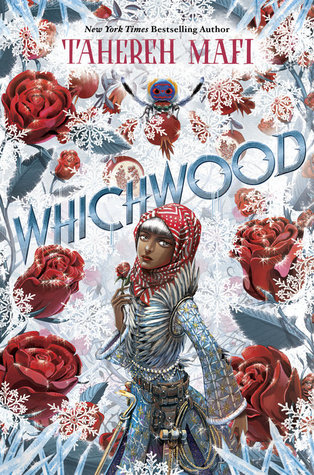 A new adventure about a girl who is fated to wash the bodies of the dead in this companion to Furthermore.
Our story begins on a frosty night…
Laylee can barely remember the happier times before her beloved mother died. Before her father, driven by grief, lost his wits (and his way). Before she was left as the sole remaining mordeshoor in the village of Whichwood, destined to spend her days washing the bodies of the dead and preparing their souls for the afterlife. It's become easy to forget and easier still to ignore the way her hands are stiffening and turning silver, just like her hair, and her own ever-increasing loneliness and fear.
But soon, a pair of familiar strangers appears, and Laylee's world is turned upside down as she rediscovers color, magic, and the healing power of friendship.
---
The bestselling author of The Martian returns with an irresistible new near-future thriller—a heist story set on the moon
Jazz Bashara is a criminal.
Well, sort of. Life on Artemis, the first and only city on the moon, is tough if you're not a rich tourist or an eccentric billionaire. So smuggling in the occasional harmless bit of contraband barely counts, right? Not when you've got debts to pay and your job as a porter barely covers the rent.
Everything changes when Jazz sees the chance to commit the perfect crime, with a reward too lucrative to turn down. But pulling off the impossible is just the start of her problems, as she learns that she's stepped square into a conspiracy for control of Artemis itself—and that now, her only chance at survival lies in a gambit even riskier than the first.
---
From the USA Today bestselling author of The Story of Us and Fisher's Light comes a new, standalone novel—a heartwrenching story about first loves and second chances that will make you fall in love all over again….
Five years. I would've stayed away longer if I hadn't received the letter. Not a day has gone by that I haven't thought about her, haven't missed her smile, haven't wished that things were different.
The last time I saw my two best friends, I vowed to not stand in the way of their happiness, even if that meant I couldn't be a part of their lives. Cameron James and her emerald-green eyes were too much of a temptation and I couldn't stay and watch them together. Cameron deserved better than me. She deserved him.
But now that I am back, things are different. I'm not going to stand by and watch the woman I've always loved slip away again. I'm done living my life with regrets and I'm ready to tell her the truth. And I'll do whatever it takes to show her that I always wished she was mine.
---
  
The covers used were found on Goodreads. I claim no right to these whatsoever.