Hi Munchworms!
This week's topic for The Broke and the Bookish's Top Ten Tuesday is "Books I want my children to read" and… this is going to be torture!
Of course we all have the typical books that we grew up with and that we'd love to share with our children when they're old enough. Pretty sure Harry Potter would be on a lot of people's lists for that one. Makes sense, since there are a lot of lessons to be learned from those books.
Instead of making a list for that specific topic, I'm going to put a little spin on it and share some books that I remember reading, or being read to me, when I was younger!
Let's see how good my memory is…
---
I was a sucker for bedtime stories. Every time I saw any kind of book with "365 stories" I wanted to have it. I think I have about four or five of them on my mom's attic, really.
Of course, instead of reading a story a day, I practically binged the whole thing every time but hey, that's a bookworm for you.
---
The "Tiny"-books… Of course those are in Dutch – and there's also a version in French, but then our main character is named Martine.
These books pretty much made sure I hassled my parents with things I wanted to do. Tiny goes ice skating? Kathy wants to go ice skating! Tiny found a kitten? Kathy wants a kitten!
---
 Another one of my childhood favorites is Pinkeltje. That little man went on adventures I could hardly imagine when I was that young! I always wish I had an adventurous life like that…
Apart from these three books, I also had a whole ton of fairy tale books, with a box of audio-tapes as well! Not that I listened to those much… I preferred reading. Still do, haha.
---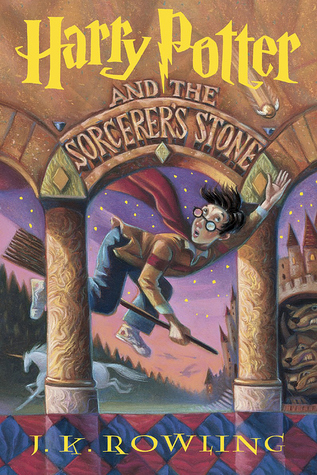 Yes, yes! I'm doing it anyway! It's still a fact that Harry Potter made me fall in love with reading even more. I've always read a lot, thanks to my mom, but Harry Potter actually made me beg, for the first time, to buy more books. I wanted, needed, craved the sequels.
With this, my love for magic, witches and wizards took off and…
---
The Sweep-series became my next love!
I even convinced my mom to order them all. They ended up being delivered in the span of a couple of months. Two books every two weeks or something like that.
I don't think I'd enjoy them as much now, but back then? The love!
---
Then the vampire-madness started. I could add Twilight to this, but… Well, let's just say that there's another series out there that made me fall in love with vampires more. Although Twilight is still highly accountable for my werewolf-love, haha.
I think I mentioned the House of Night-series before. I still haven't read the final books – oops – but even though it's been so long since I read them, I'm still planning on buying and rereading them all. It's nostalgia on a plate and I want to finish that journey!
---
Then, of course, the combination of witches, vampires, werewolves and demons: The Mortal Instruments! I fell in love with these books the first time I read them. Safe to say I'm loving the fact that Clare keeps delivering whenever a new book appears on the shelves. Anyone else eagerly waiting for Queen of Air and Darkness? Have you seen that cover?! GORGEOUS.
---
So, what books made it onto your list? Any of these books that you didn't like at all? Or maybe still plan on reading?