Hi Munchworms!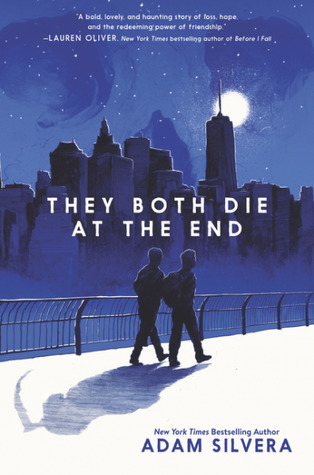 I've seen a lot of you talking about They Both Die At The End by Adam Silvera. Honestly, a year ago I wouldn't have picked this up. But my reading has changed ever since starting my blog and now… Now this is definitely a book I'd pick up without thinking twice about it!
I've simply grown to love emotional roller-coasters.
When Mateo receives the dreaded call from Death-Cast, informing him that today will be his last, he doesn't know where to begin. Quiet and shy, Mateo is devastated at the thought of leaving behind his hospitalised father, and his best friend and her baby girl. But he knows that he has to make the most of this day, it's his last chance to get out there and make an impression.

Rufus is busy beating up his ex-girlfriend's new boyfriend when he gets the call. Having lost his entire family, Rufus is no stranger to Death-Cast. Not that it makes it any easier. With bridges to mend, the police searching for him and the angry new boyfriend on his tail, it's time to run.

Isolated and scared, the boys reach out to each other, and what follows is a day of living life to the full. Though neither of them had expected that this would involve falling in love…
Plot-wise, I was pulled in. Fast. The whole idea of getting that phone call in the middle of the night to discover it's your last day got a hold on me hard and fast. It's hard to imagine that a phone call could change everything so drastically.
Yes, we all get life-changing calls during our life at one point or another. But like this?
Even though the title says it all, I kept hoping with my fingers and toes crossed that it would end differently. I bonded with Mateo and Rufus. I started loving them for their own unique characters and voices – which Silvera did so well! – and I didn't want them to die. I really wanted to give them all the time in the world to live their lives.
There were small moments at the start of the book, at the middle of it and especially near the end where I just felt like curling up and crying. Which I did. I really did. If you don't at least think of crying a bit while you're reading.. You're not in the right head-space or simply soulless!
I honestly have to applaud Silvera for executing this idea, this novel in such a brilliant way. I loved the writing, I loved that Rufus and Mateo had such distinct voices. Honestly, you don't even have to read whose POV's coming. You can pretty much tell from the way it's written.
Nothing bad and five cupcakes!
European bookworms might want to check out my Turtles All The Way Down-picture on Instagram! Hosting a giveaway there!
I paid full-price for this novel. All opinions are entirely my own. I'm not being compensated in any way.