Hi Munchworms!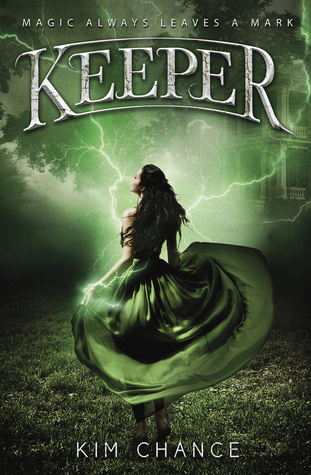 Today is the day that I'll talk about Keeper by Kim Chance. This was a book that I honestly had to sleep on before writing my review. I actually took over a week for this..
Where at first I had some trouble with the MC, I still ended up liking the novel itself so I was kind of torn about the whole thing.
When a 200-year-old witch attacks her, sixteen-year-old bookworm Lainey Styles is determined to find a logical explanation. Even with the impossible staring her in the face, Lainey refuses to believe it—until she finds a photograph linking the witch to her dead mother.

After consulting a psychic, Lainey discovers that she, like her mother, is a Keeper: a witch with the exclusive ability to unlock and wield the Grimoire, a dangerous but powerful spell book. But there's a problem. The Grimoire has been stolen by a malevolent warlock who is desperate for a spell locked inside it—a spell that would allow him to siphon away the world's magic.

With the help of her comic-book-loving best friend and an enigmatic but admittedly handsome street fighter, Lainey must leave her life of college prep and studying behind to prepare for the biggest test of all: stealing back the book.
Kim's writing enticed me. It was straight-forward, yet beautifully descriptive at times and it sucked me right in. Honestly, it was a story that I read pretty quickly and I always enjoy that!
I was out of ideas, out of clues, and very likely out of my own damn mind.
The other huge plus was Maggie, the most geeky, protective best friend you could possibly imagine! References to Harry Potter, X-Men, Supernatural and all kinds of other series, superheroes and comics are thrown everywhere and I absolutely loved that. I could really imagine one of my friends going on in exactly that way, which made me love Maggie even more.
"God, Styles, if you get your Hogwarts letter before me, I'm gonna be so pissed!"
But then… I didn't really like our MC, Lainey. She's almost seventeen, yet behaves like a child. Her feelings are all over the place and, even though that might be normal if you discover one secret after another, it was just over the top. One second she's mad, frustrated and practically screaming, while she's all forgiving the next. Then she's a whiny, crying mess and all of a sudden she's waving a sword around and wants to sacrifice herself? It simply didn't feel right and made it impossible for me to connect with her the way I wanted to.
Although that did improve by the end of the novel, so there's that.
What was left of her heart splintered into a thousand pieces – a thousand wounds that would never heal.
Then we have our typical bad boy, Ty. You all know that I like my bad boys and I have to admit that I liked him as well. Of course, there's a bit of insta-love going on. Normally that wouldn't really get on my nerves, but this time was different.
Lainey's whole life is changing, falling to pieces and she still was all blushy, gushy and lovey-dovey as soon as she'd set her eyes on him.
I'm not going to say I disliked Keeper, but I didn't love it either. It was an okay-read, but that's it. I'm still not sure whether or not I'd be tempted to read the sequel…
3,5 / 5
This book is being published January 30th, so if you feel like this is exactly your thing – honestly, that's possible! We don't all have the same taste in books! – head on over to Amazon.com, Amazon.co.uk, BookDepository, B&N or any other site. Of course you can also add it to your Goodreads-TBR!
---
ADDITION 31/01/2018
I wrote this review when I had first read the novel, which was in October 2017. Rereading my review, I honestly believe I was way too friendly when it comes to my rating. I don't even know why I'd give 3,5 to a book I obviously had some big issues with. Maybe I was simply too.. friendly back then? Alas, the rating I'd give it now… is less.
I received an eARC of this book through NetGalley. All opinions are entirely my own. I'm not being compensated for my review in any way.