Hi Munchworms!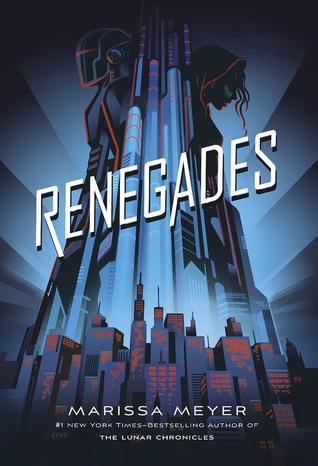 You might know, you might not but I'm a huge fan of Marissa Meyer's writing. I devoured The Lunar Chronicles in no time and loved them all to bits. It's an understatement to say I was excited when I heard about Renegades!
Something completely different, sure, but I couldn't imagine not loving it as well.
Secret Identities. Extraordinary Powers. She wants vengeance. He wants justice.

The Renegades are a syndicate of prodigies — humans with extraordinary abilities — who emerged from the ruins of a crumbled society and established peace and order where chaos reigned. As champions of justice, they remain a symbol of hope and courage to everyone… except the villains they once overthrew.

Nova has a reason to hate the Renegades, and she is on a mission for vengeance. As she gets closer to her target, she meets Adrian, a Renegade boy who believes in justice — and in Nova. But Nova's allegiance is to a villain who has the power to end them both.
I love the whole concept! I always enjoyed superhero-movies – not that I really am the biggest fan, but I like them – so a book with superheroes and villains? Sign me up! The way Meyer portrays them is brilliant. The division between Anarchists and Renegades is brilliant. I can easily see people torn over which side to chose. In the end they both make sense and it really messed with my brain sometimes. Anarchist all the way though!
As for the writing. I didn't expect anything less of Meyer and she delivered! Even though the story was slow at times, it still read so fluently because I simply adore the way she writes. I can't help but read fast whenever I pick up one of her books.
Nova, oh boy. There's the sassy female I love to love. Villain, superhero, antihero. Who cares anymore? The way she fights, sacrifices herself and tries to do the right thing is beautiful. The internal struggles she deals with are also amazing to see and feel. You know she's struggling, you know she's trying to figure out her place in the world and I cannot wait to find out where it'll be!
OH AND THE ENDING. I thought it would end like it did but only briefly. By the time it actually happened I was a mess of "Ooooh! No! Nonono!" Guess who's ready to preorder the sequel? And knowing it's a duology…
There's pretty much one major thing that irked me the wrong way, really. This book is supposed to be full of superheroes, villains – or better said, prodigies. For me that equals hearing someone say "it's filled with action!" Guess what. It's not.
The action only starts when you're about two thirds in the book and knowing this monster has over 500 pages, that's really late?
It became the strong against the weak, and, as it turns out, the strong were usually jerks.
As for the munches, I wanted to bake waffles myself but let's just say they failed. Just a teeny, tiny bit.
I could hardly wait even longer to post my review though, so Google is my savior!
Now, drool over this chocolate chip waffle smothered in whipped cream and imagine I made it myself… So sure mine would not have looked that good, like at all… Nope.