Hi Munchworms!
A while ago, I read this beautiful novel. A novel that screamed sappy romance and looked pretty darn promising. But did it live up to my expectations?
'Will you… pretend to marry me?'

Bonnie Haskett loves everything about weddings. She loves her job at a national bridal magazine and even has a deposit down on her dream dress. The only problem? She doesn't have a fiancé!

So when Bonnie is sent to Edelweiss Island, known as 'The Little Wedding Island', it's a dream come true. She's heard the rumours, every wedding that takes place in the tiny chapel ends in a happy-ever-after.

But there's a catch! Investigating the story, Bonnie needs to pose as a blushing bride – and the only man up for posing as her groom is her arch rival (and far too handsome for his own good) journalist Rohan Carter…

A gorgeously uplifting summer romance. Perfect for fans of Holly Martin and Caroline Roberts.
If you want a love story to take you away to a small island in the UK, to lose yourself in romance and to make you believe in any kind of love again, this is a novel you should pick up. Of course you know how it'll end, but the journey to get there is amazing, wonderful and emotional.
I hadn't read anything by Jaimie Admans before, though I did know her debut, The Chateau of Happily Ever Afters, was published earlier this year. Ever since reading The Little Wedding Island, I've been wanting to pick up the her other novel. Rest assured I'll get my hands on a copy!
I adore her writing, imagination and… well… her heart. While reading The Little Wedding Island, I really could feel Jaimie's hope and belief in love, let alone her love for love. For someone to be able to let that shine through in words is amazing.
"You're young and in love. Don't let a minute of that pass without showing how much you love each other. You never know when it'll be too late."
As for the story itself? It took me on a roller coaster ride. I was disappointed in the main characters, I felt sorry for them, I loved them and I fell in love with them. I felt everything that a novel like this is supposed to make me feel and more. So much more.
So many relationships fail because people start taking each other for granted.
Guys, I think I fell in love with Rohan. I really did. Pretty sure of it. I love myself a good portion of sarcasm and he has just that. The things he hides with that sarcasm? I'm swooning just thinking about it. Let's keep it at: I hope all of you find someone who makes you feel like Ro made Bonnie feel and vice versa. We're all worthy of an epic love and this novel convinced me of that even more.
"Seasick?"
"No, I just enjoy sitting on boats and groaning in my spare time."
If there's one thing that got on my nerves a little bit, just a tiny bit, it's Bonnie's naive believe in love. Sure, I get people believe in love – I do so myself – but sometimes it felt a bit over the top. But I have to add that I simply started ignoring that little downside and just fell in love with The Little Wedding Island along the way. Love makes certain things bearable you know?
"Words are easy, actions are not, and the smallest things, like holding hands or making your other half a cup of tea in the mornings… that's where relationships strengthen of start to fall apart."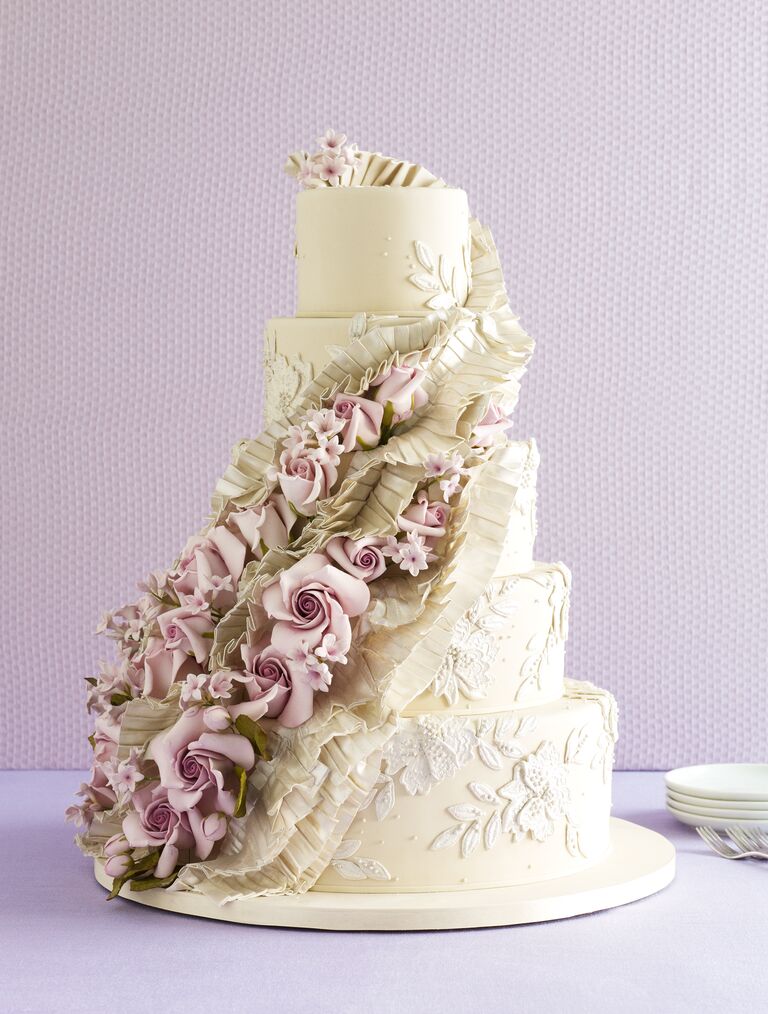 Sure, there was one thing I didn't really enjoy but, like I said, I kind of forgave The Little Wedding Island for that. I simply loved it too much; loved Bonnie too much and especially loved Rohan too much to hold it against them.
As for the munches, here's a gorgeous cake! I'm honestly craving cake ever since I googled wedding cakes… Do you know how amazing those all look? Like… Can someone get me some cake, please? Or just a cupcake? Anything, really. As long as it's cake-ish?
I think I'll need to make a trip to the bakery some day soon… Stuff my face with cake…
Quotes used in this review were taking out of an unfinished copy and may differ from the finished copy of this book. I received an eCopy of this book through NetGalley. All opinions are entirely my own. I'm not being compensated in any way. The cake-image used was found on Google; I claim no rights to this picture whatsoever.