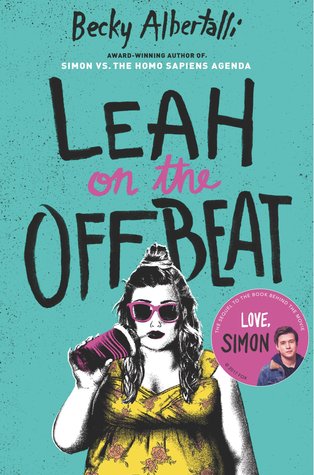 TITLE: Leah on the Offbeat
AUTHOR: Becky Albertalli
RELEASED: May 3, 2018
PUBLISHER: Penguin Random House UK Children's
FORMAT: Ebook
GENRE: YA Contemporary / LGBTQ+
GOODREADS RATING: 4.26
SYNOPSIS
Leah Burke—girl-band drummer, master of deadpan, and Simon Spier's best friend from the award-winning Simon vs. the Homo Sapiens Agenda—takes center stage in this novel of first love and senior-year angst.
When it comes to drumming, Leah Burke is usually on beat—but real life isn't always so rhythmic. An anomaly in her friend group, she's the only child of a young, single mom, and her life is decidedly less privileged. She loves to draw but is too self-conscious to show it. And even though her mom knows she's bisexual, she hasn't mustered the courage to tell her friends—not even her openly gay BFF, Simon.
So Leah really doesn't know what to do when her rock-solid friend group starts to fracture in unexpected ways. With prom and college on the horizon, tensions are running high. It's hard for Leah to strike the right note while the people she loves are fighting—especially when she realizes she might love one of them more than she ever intended.
If you don't know yet how I cannot shut up about this little piece of perfection, you must've not been on any of my social media. I love Leah, I am in love with Leah and I'm going to tell you why. Or, I will if you have read Simon vs. The Homo Sapiens Agenda. If you haven't, abort mission and go read it first before diving into this review because it is so worth it!
Leah on the Offbeat is set one year after Simon vs. the Homo Sapiens Agenda. This means that we get to find out what happened to our very special and beloved Simon! Not to mention Abby and Nick. I won't be talking about that in a lot of detail though, because I really want all of you to enjoy Simon vs. if you haven't gotten the chance to read it yet. I just wanted to mention that I love seeing how all our characters are doing a year later, how we're still getting updates on their lives.
"I'm basically your resident fat Slytherin Rory Gilmore."
After reading Simon vs. I can easily say I had such high expectations for Leah on the Offbeat. Knowing we'd get to know a bisexual, plus-sized female better, I was simply stoked and eagerly waiting to get my hands on a copy. Actually, high expectations might be an understatement. I wanted Leah to be perfection and… You know what? It is. This novel is everything I expected it to be and more. I wasn't even decently in the story and I'd already snorted at least two times, laughed out loud three times and was all queasy while reading too.
"I swear, people can't wrap their minds around the concept of a fat girl who doesn't diet. Is it that hard to believe I might actually like my body?"
Leah herself is such a relateable character to me. She's sassy, sarcastic and just overall amazing. Being a bisexual, plus-sized female myself – not to mention my sarcastic tendencies – I could see so much of myself in her. I loved how she got frustrated over people treating her as straight because, as we all know, straight is the norm – unfortunately.
The fact that she's plus-sized isn't even talked about in an obvious way. Sure, it's mentioned by Leah a couple of times but focused on. It's simply accepted as a fact, as if there isn't anything wrong with that. There simply is nothing wrong with that! I LOVE IT.
Oh, and then we have her being a drummer. Like, yes?! My boyfriend is a drummer so that was an added bonus. Apart from music, she also draws. Creativity: check! The more I found out about Leah, the more I felt like she's my fictional twin. I just don't know how to describe it otherwise. [Although I'm a bit unsure about my being a Gryffindor vs. her being a Slytherin…]
"It's like it doesn't even matter if I like my body, because there's always someone there to remind me I shouldn't."
Then we have two characters we met during Simon vs.: Abby and Nick. Nick is still… well, Nick. Although I love his presence in this novel, I do feel like there might've been a bit more of him.  But Abby? Honestly, I  knew I would love Abby more and more if I got to know her better and I did!
Garrett… Well, let's just say he's one of those typical loud and obnoxious guys who still manages to snag a little piece of my heart. When he wants something, he goes for it. Although it does give him a bit of an ignorant vibe at times.
Oh, and a fun thing that I just need to mention? The Harry Potter-references have not left the building! There's even a Six of Crows-reference! Like, can this get any more perfect?!
I honestly highly doubt it because I have nothing bad to say about this novel. Not one thing. I cannot wait to hold my physical copy and devour it all over again.
When it comes to the munches, I'm sharing a pretty image of a Googled buttery, grilled cheese sandwich! I know these are easy to make yourself but the thing is… Those are way too greasy for me and my stomach can't handle them so I just didn't bother? That and I didn't have the right cheese in the fridge, haha. 
Have you ever felt so connected to a character that you could hardly believe it isn't actually you the book is about? If not, what kind of character would you be? A combination of characters we already know?