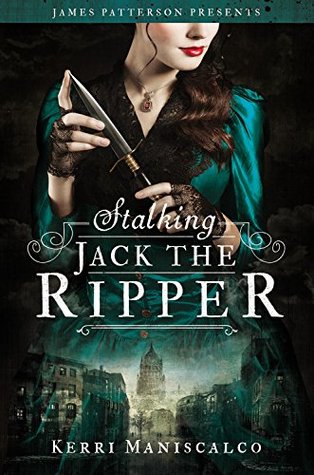 TITLE: Stalking Jack the Ripper
AUTHOR: Kerri Maniscalco
RELEASED: September 20, 2016
PUBLISHER: Jimmy Patterson
FORMAT: Hardcover
GENRE: YA Historical fiction
GOODREADS RATING: 4.02
SYNOPSIS
Seventeen-year-old Audrey Rose Wadsworth was born a lord's daughter, with a life of wealth and privilege stretched out before her. But between the social teas and silk dress fittings, she leads a forbidden secret life.
Against her stern father's wishes and society's expectations, Audrey often slips away to her uncle's laboratory to study the gruesome practice of forensic medicine. When her work on a string of savagely killed corpses drags Audrey into the investigation of a serial murderer, her search for answers brings her close to her own sheltered world.
I don't even want to know how many of you were on my case about this book. A lot of you were, that's for sure! I knew I wanted to read Stalking Jack the Ripper – if only because London and I are a perfect combination. So sorry it took me this ridiculously long to pick it up, guys!
I was expecting to get that real eighties, London vibe and that's exactly what I lost myself in. I loved it. Kerri Maniscalco simply transports you back to the era of Jack the Ripper, with all its gruesome gore and spooky atmosphere.
Then we have our characters!
Audrey Rose is, without a doubt, one fun, feminist, courageous and passionate character. I couldn't help but admire the way she stood up for the things she wants, the achievements she's working for, the freedom she's trying to claim for herself. She knows what place she's supposed to have in society, but she also realizes she deserves more than "simply being a pretty face and talking gossip" and not having an opinion of her own. She lives for quenching her curiosity – which is definitely something I can relate to as well, haha.
"Oh? Where in a medical dictionary does it say a woman cannot handle such things? What is a man's soul made of that a woman's is not?" I teased. "I had no idea my innards were composed of cotton and kittens, while yours were filled with steel and steam-driven parts."
Thomas, on the other hand, is quite the odd duck. He's funny – that's a given – and unique. The way he handles people and events is a prime example of that. His deduction skills are amazing. At first I thought they were a bit over the top, but it didn't take me long to get used to it and understand someone can actually be that observant. Honestly, I can totally imagine Thomas being some nutty professor later in life – one awkward around people, but simply brilliant when surrounded with science. Yup. Definitely!
"Each time my blade met with flesh, I sinned more and welcomed it."
Overall there aren't really any creepy vibes – which I'm totally okay with. The descriptions Maniscalco throws at us, on the other hand, those are definitely worth mentioning. Gruesome to say the least. It freaked me out at times but I loved it. You simply cannot have a story revolving around Jack the Ripper and not have the gore that goes with it.
I know there's supposed to be a spark between Audrey Rose and Thomas but… Honestly, I couldn't feel it. Sure, they had some fun banter going on, but that's where it ended for me? I don't know. Honestly, I think this is totally me and others might not feel the same way about this.
Overall this is definitely an enjoyable read! The gory details had me freaked, the story had me hooked and Audrey Rose had me cheering her on. Can't wait to get started on Hunting Prince Dracula, to be honest!
Have you read Stalking Jack the Ripper yet? Or maybe even read Hunting Prince Dracula already? Which one did you like most? Why are you or aren't you planning on reading these books?