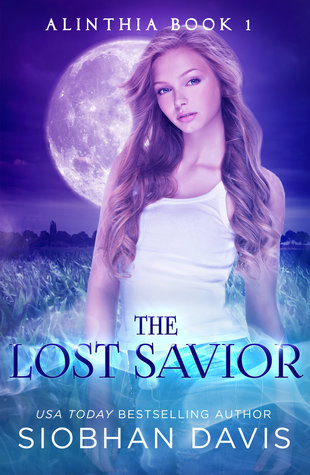 TITLE: The Lost Savior #1
AUTHOR: Siobhan Davis
RELEASED: February 1, 2018
FORMAT: Ebook
GENRE: NA Science Fiction
GOODREADS RATING: 4.04
SYNOPSIS
They came from another world to protect her. Now it's her destiny to save them …
Tori King is a normal senior in high school. Head over heels in love with her childhood sweetheart, she is busy making plans for college when a chance encounter with an alien bounty hunter turns her world upside down. Now, she's experiencing terrifying changes and developing supernatural abilities that leave her questioning her entire existence.
Then the arrival of four hot new guys at school has everyone talking—especially when they become fixated on Tori, following her wherever she goes. She can't shake them off, and as they grow closer, she finds herself drawn to all four of them in ways she cannot explain.
When they finally reveal their true identity, and why they're here for her, she discovers everything she thought she knew about herself is a lie.
Because there is nothing normal about Tori King.
And she's about to discover exactly how underrated normal is.
I read The Lost Savior pretty soon after receiving it, but somehow it took me a while to get my review in order. I remember starting to read this book, already forgotten what exactly it was about – except for it being a reverse harem novel. Imagine my surprise when I suddenly realized it's a science fiction novel at that!
Let's start with the first thing I noticed and loved. Our main character, Tori, is already in a romantic relationship when we get to know her. With her childhood friend / next door neighbor, Jensen, at that! It's always refreshing when this is the case since so many stories start with.. well, most characters being single?
But then we have four new guys entering Tori's life. I have to admit I was a little confused at first with who was who. It didn't took me too long though, since it was obvious Maddox, Cooper, Beckett and Dane all have their own, unique characteristics. I don't even want to make a choice between those four! They were all special in their own way.
I'm scared. I like who I am, and I've never wanted to be anynoe else, but, now, it seems as if I'm changing whether I want to or not.
As for Siobhan Davis' writing… There are good things and bad things.
I loved how the bigger chunk of the story was written from Tori's POV, switching with one of the guys' POV every once in a while. It gave me the chance to actually get to know them better, know what makes them tick.
The focus of this story is more on Tori's relationships with all the men than on the actual goal / mission the guys are on. I didn't really have a problem with it, since I loved seeing their connection grow and evolve, but I can imagine other people thinking differently about that. I do hope there'll be more focus on the action and mission in future installments though!
As for the world-building… I thought it was lacking a bit. You know Tori's on earth, you know the guys are there as well for a reason but… what for? What exactly happened? What is their story? How is the entire world / galaxy put together? There are bits and pieces of answers to those questions, but I just felt like I needed more to have a real understanding of the world. Maybe if the focus had been a bit less on the romantic aspect, this might've been different. Who knows?
I talked earlier about Tori already being in a relationship when we get introduced to her. Jensen, who's supposed to be a childhood friend, is a bit of an ass though. I would've expected their relationship to have a decent foundation, trust being one of the key points. I was surprised by how many trust issues they had while there wasn't anything in their past that implicated missteps. I honestly got annoyed by that since it just didn't feel right at all to me.
After all this time together, he doubts me so easily, and it calls everything I thought I knew about our relationship into immediate question.
One more thing I want to mention is that the first chapters of this novel felt kind of "meh" to me. I honestly thought it was going to be all the way through. Luckily it wasn't. It completely turned around but I still wish the initial chapters were as good as the rest since those often decide whether or not someone will keep reading.

I'm definitely glad I pulled through though! Before I knew it I'd finished the book. For someone not quite used to reading science fiction – yet! I'm slowly branching out a bit – I definitely enjoyed this novel! Here's hoping the sequels will be action-packed!

As for the munches – favorite part of my review, ha! – I'm going with the banana and honey muffins they mentioned. Since I love baking cupcakes, I couldn't pass up on this. I loved them, my colleagues loved them and… well.. my boyfriend didn't because he hates bananas. Oops.
I even put some extra honey on top because… well, I like honey?
Is there any fruit you absolute don't like?
Have you read any reverse harem novels yet? Planning on it?
I voluntarily reviewed a complimentary copy of this book.