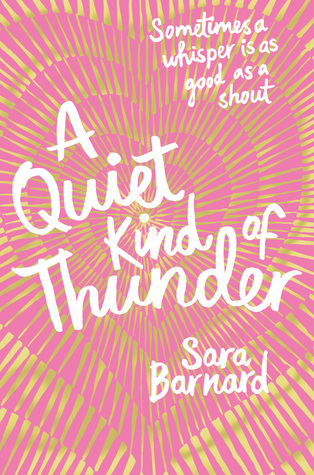 TITLE: A Quiet Kind of Thunder
AUTHOR: Sara Barnard
RELEASED: January 12, 2017
PUBLISHER: Macmillan Children's Books
FORMAT: Paperback
GENRE: YA Contemporary
GOODREADS RATING: 4.03
TRIGGERS: Social anxiety, deaf rep
SYNOPSIS
Steffi doesn't talk, but she has so much to say.
Rhys can't hear, but he can listen.
Their love isn't a lightning strike, it's the rumbling roll of thunder.
Steffi has been a selective mute for most of her life – she's been silent for so long that she feels completely invisible. But Rhys, the new boy at school, sees her. He's deaf, and her knowledge of basic sign language means that she's assigned to look after him. To Rhys, it doesn't matter that Steffi doesn't talk, and as they find ways to communicate, Steffi finds that she does have a voice, and that she's falling in love with the one person who makes her feel brave enough to use it.
I've owned this book for a while, which caused me to forget what it was about. Since Sara Barnard is coming to YALC, I knew I had to read it before then so I decided to pick it up. Suddenly I remembered. Social anxiety, deafness, sign language. I was bound to love this book.
Opening my copy of A Quiet Kind of Thunder, the first thing I saw was the alphabet in British Sign Language (BSL). That alone made me realize this was going to be an amazing book. Seeing all chapters were both ordinarily numbered and was accompanied by the sign for it… Sold!
Here are three separate but similar things: shyness, introversion and social anxiety. You can have one, two or all three of these things simultaneously. A lot of the time people thing they're all the same thing, but that's just not true. Extroverts can be shy, introverts can be bold, and a condition like anxiety can strike whatever kind of social animal you are.
The combination of writing and format felt truly unique. Written in first person, I completely lost myself in Steffi's (our main character) head. Even though I don't have any social anxiety and will never claim to know anything about it, it did feel like this mental illness was portrayed very realistically. I felt her anxiety, even related to her in some small ways that made me think we might all have a tiny bit of social anxiety.
As for the formatting… I fell in love with it. Bold fonts equaled Steffi and Rhys talking with each other by using sign language. Then there was the other font, a handwritten one, for when they were passing notes or simply talking by writing everything down. There also were chats and text messages. All these things made my reading experience that much more special. I could totally imagine two people sitting together, signing away. Talking, communicating in their own way, in their own world. And I loved it.
Little victories are everything in a world where worst-case scenarios are on an endless loop in your head.
As I said, our main character – Steffi – has social anxiety. When she was younger, she was diagnosed with selective mutism. I had no idea what that was before I started reading this book and I'm sure I still don't know a great deal about it but… The way Sara Barnard created Steffi and tried to bring her social anxiety into words felt truly amazing.
Not to mention Rhys, who's deaf. If you've been following my blog for a while, you know I need more books with deaf representation. This is one of those. I love it. Absolutely love it. The way BSL is incorporated in this story is truly magnificent.
Panic attacks are a lot like being drunk in some ways, you lose self-control. You cry for seemingly no reason. You deal with the hangover long into the next day.

I realize this is a pretty short review, but.. Honestly, I loved it so much it's really hard to put into words all the things I adore about A Quiet Kind of Thunder. I just hope you'll pick it up as well!
Have you read books representing ASL/BSL or deaf characters in the past? Which ones? I'd love some recommendations!