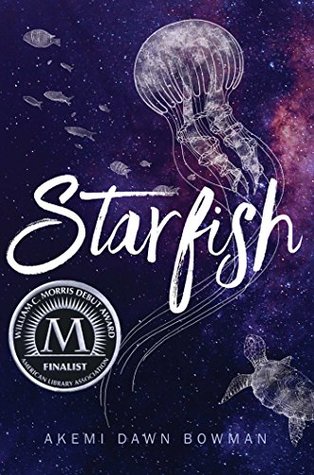 TITLE: Starfish
AUTHOR: Akemi Dawn Bowman
RELEASED: September 26, 2017
PUBLISHER: Simon Pulse
FORMAT: Paperback
GENRE: YA Contemporary
GOODREADS RATING: 4.14
TRIGGERS: Mention of racism, social anxiety, abuse, narcissism, suicide
SYNOPSIS
Kiko Himura has always had a hard time saying exactly what she's thinking. With a mother who makes her feel unremarkable and a half-Japanese heritage she doesn't quite understand, Kiko prefers to keep her head down, certain that once she makes it into her dream art school, Prism, her real life will begin.
But then Kiko doesn't get into Prism, at the same time her abusive uncle moves back in with her family. So when she receives an invitation from her childhood friend to leave her small town and tour art schools on the west coast, Kiko jumps at the opportunity in spite of the anxieties and fears that attempt to hold her back. And now that she is finally free to be her own person outside the constricting walls of her home life, Kiko learns life-changing truths about herself, her past, and how to be brave.
Starfish has been recommended to me by a ton of people – the most persistent one being Marie – so I'm happy to say I finally read it and I'm so happy all of you pushed me to read it! I knew I was going to like it, but it still managed to blow all my expectations to pieces. That and this book ended up meaning the world to me. Easily one of my favorites so far!
I want to start this review by saying how confrontational Starfish was for me. I mentioned it in the past, but one of the main topics in this novel is one that's very close to me. One that's a part of my childhood and something that made me who I am today. Narcissism. Although it's never been formally diagnosed, I am sure it's something my father struggles with – a lot.
This made this book very hard to read at times because it was ridiculously familiar and I was transported back to my youth plenty of times. I'm happy to say it doesn't hit me in a negative way anymore though, but it's still hard when small things you thought you'd forgotten about make a sudden appearance in the form of memories. It made me appreciate this book more, simply because I can definitely tell you Akemi portrays narcissism in a very realistic and true way. In an ugly way – because it's a mainly ugly mental illness.At least my experiences with it lead me to conclude that. Maybe others feel differently, but there are many forms of narcissism and this is the one I know.
She can't be the villain if she's the victim.
The influence her mother's narcissism has on Kiko is enormous. Social anxiety and a non-existent self-esteem are the main consequences. The way she tries to handle those, how she evolves throughout the story is a beautiful thing to see. I love how she has her art to process, to realize things she wouldn't have otherwise. Not to mention have some kind of outlet because that's something truly important.
Confidence is a foreign concept to me, and saying how I feel, out loud, is horribly unnatural. It sounds like I'm yelling my feelings.
Mentioning her art, I want to highlight how nearly every chapter ends with a description of what Kiko is drawing / sketching / paining at that point. It adds so much to it because you get to see how she puts her feelings into art. Sometimes it even felt like I wouldn't have understood her as much as I did without those descriptions.
Fixing me isn't like fixing a loose screw or a little bit of rust. I'm like a giant mess of problems, all linked together and tracing back to my childhood. Back to when things got so complicated.
As for the other characters.. Jamie is a wonderful one. Being Kiko's childhood best friend, it's even more special to see how they find their ways back to one another. Not to mention it's easily one of my favorite tropes – sorry not sorry.
Apart from Jamie, there's also Kiko's siblings. The way Akemi portrays the relationship – or lack thereof – feels real. I have a brother and up until a couple of years ago, I always said I didn't really have any relationship with him because my father wouldn't allow it; he made it impossible. Seeing that in Starfish made me realize once more how much Kiko's story and mine have in common.
Beauty is unique and special and it looks different for every person in the world.
I really don't have one bad thing to say about this novel.

Yes, this book confronted me with my entire past – or a ridiculously large part of it – but I love it even more for just that. Sometimes you need the confrontation to realize how much better you are today, how far you've come. I love Starfish for giving me that.
What's a book that touched you straight in your core?
How did it impact you exactly?