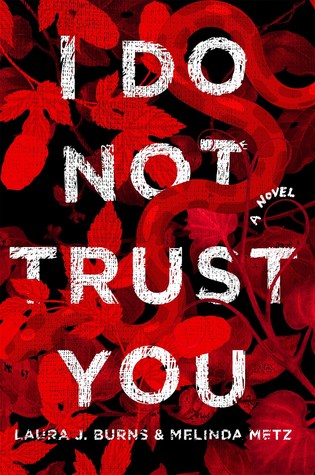 TITLE: I Do Not Trust You
AUTHOR: Laura J. Burns & Melinda Metz
RELEASED: September 11, 2018
PUBLISHER: Wednesday Books
FORMAT: Ebook
GENRE: YA Fantasy – mythology
GOODREADS RATING: 3.4
TRIGGERS: Drug use by small side character, mention of physical abuse
SYNOPSIS
Memphis "M" Engle is stubborn to a fault, graced with an almost absurd knowledge of long lost languages and cultures, and a heck of an opponent in a fight. In short: she's awesome.
Ashwin Sood is a little too posh for her tastes, a member of an ancient cult (which she's pretty sure counts for more than one strike against him), and has just informed Memphis that her father who she thought was dead isn't and needs her help.
From the catacombs of Paris to lost temples in the sacred forests, together they crisscross the globe, searching for the pieces of the one thing that might save her father. But the closer they come to saving him—and the more they fall for one another—the closer they get to destroying the world.
I didn't remember a thing about this novel when I finally picked it up. I love the cover – that's for sure. But any memories regarding the content of the book? No clue whatsoever! Sometimes that's the best way to start reading, sometimes it isn't. What was it this time? Let's find out!
If there's one thing I absolutely loved about this novel, it's all the mythology. I'm no fan of history at all, but mythology? That's different! A lot of cultures and, automatically, a whole range of myths were mentioned, spoken of and told. I loved the stories. The manner in which these myths were incorporated really pleased me to no end. 
An adventure. That's precisely what this book is. Together with Memphis – or M – and Ashwin, we leave on a journey around the world to find pieces of a Set-statue. The way puzzles, hieroglyphs and well thought-out settings were used and described spoke to me. Our main character had to figure it all out, supporting mostly on Mike – a friend she keeps in contact with through text messages.
You don't stop. You don't hesitate. You just keep thinking of different ways to solve your problems. You make it up as you go.
I really liked Memphis and seeing most of the story from her POV. She's smart and when she sets her mind on something, she's hellbent on reaching her goal – even risking her life and doing some other risky things in the process. She doesn't back off at all and I admired that. Although, admittedly, some things about her did not make sense at all..
Stories are based on truths, so you can use them as a guide. But you can't take them literally.

One thing I felt was wrong? The whole way Memphis' and Ashwin's relationship progressed. Ashwin knows about her father being kept prisoner yet he refuses to help her until he gets her map or the Set-pieces they're looking for. Or both. It doesn't matter. Fact is, she should not be trusting him – like the title of this book implies. However, within the first 20% she was already admiring his looks and some of his characteristics?! It felt so completely, totally, entirely wrong to me. The way they behave changed way too quickly for my liking. And that's not even mentioning how they both kept going from "I can't trust him/her" to "Oh lord, he/she's cute/beautiful/smart/…" It. Didn't. Feel. Right.
He didn't want to reassure her again. He didn't want to lie to her again. He wanted to keep going the way they had been, getting along, having fun, building trust. Until he had to betray her.
As for Ashwin himself.. He felt flat to me. Where Memphis definitely had some unique layers, characteristics and her own voice, Ashwin was misty and vague. You knew what he wanted, but you didn't get any insight in his character for ages even though some parts were written from his point of view. The only moment I felt the tiniest spark of emotion towards him, was when he admitted things about his past. Apart from that? Nope. Nothing. Nada.
Another issue I had was how.. there weren't any real twists and turns? I thought I'd at least be blown away once but most of the things I saw coming or expected to be a certain way and I ended up being right. For someone usually not even looking for upcoming twists, this was.. not fun? I don't know. I'd rather be surprised than see things coming without looking for them.
And then the thing that ended up annoying me most of all – apart from the love-stuff, that is. The fantasy-aspect! About half-way through the book, somehow, all of a sudden, there are fantastical elements added. I didn't like it one bit, simply because this story could've done without all that. It felt to me like it was a way of the author to make certain events possible – or easier – to overcome. It annoyed me. I would've liked this story way better without it, to be honest. 
The last thing I want to mention is a quote that.. had me rereading it a couple of times because it felt so wrong to me. I just couldn't accept the comparison made by the author. At first, I doubted about mentioning it my review but in the end, it did anger me. I hope this was changed in the final copy of the book, since I read an advanced copy but even so.. The quote is the following: "If I'd been an addict, or transgender, or disabled in some way, anything else, they would have still loved me, done anything to help me, I know that. But they couldn't handle my power. They thought it was evil." I just.. can't.

I liked the adventure-side of this novel, the journey / quest our characters went on.. But the issues I had were not of the small and innocent kind at all. I ranted to people, I got frustrated. I even got angry a few times and for that, I can't give a high rating… 
Have you ever had a book where you wished a certain event never occurred?
Or where you wish the author had done one thing entirely different?