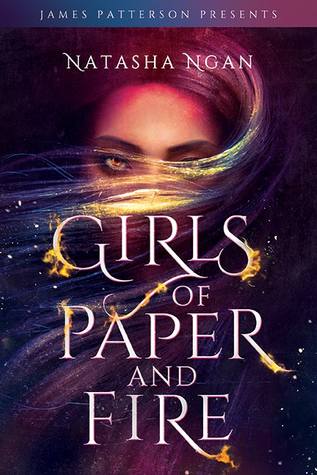 TITLE: Girls of Paper and Fire
AUTHOR: Natasha Ngan
RELEASED: November 6, 2018
PUBLISHER: Jimmy Patterson Books
FORMAT: ARC
GENRE: YA Fantasy, LGTBQIA+
GOODREADS RATING: 4.16
TRIGGERS: Graphic animal death [final two pages of chapter two], assault, sexual assault, torture, branding, murder, abduction, violence
SYNOPSIS
Each year, eight beautiful girls are chosen as Paper Girls to serve the king. It's the highest honor they could hope for…and the most cruel.
But this year, there's a ninth girl. And instead of paper, she's made of fire.
In this lush fantasy, Lei is a member of the Paper caste, the lowest and most oppressed class in Ikhara. She lives in a remote village with her father, where the decade-old trauma of watching her mother snatched by royal guards still haunts her. Now, the guards are back, and this time it's Lei they're after–the girl whose golden eyes have piqued the king's interest.
Over weeks of training in the opulent but stifling palace, Lei and eight other girls learn the skills and charm that befit being a king's consort. But Lei isn't content to watch her fate consume her. Instead, she does the unthinkable–she falls in love. Her forbidden romance becomes enmeshed with an explosive plot that threatens the very foundation of Ikhara, and Lei, still the wide-eyed country girl at heart, must decide just how far she's willing to go for justice and revenge.
Back when I went to YALC in July, this is one of the ARC's I succeeded at picking up. I was so pumped to read it, but.. as usual, it disappeared down the TBR-mountain. That is, until people kept saying and mentioning how they were looking forward to Girls of Paper and Fire and I couldn't not pick it up immediately! So, here's my review – fingers crossed I do this novel justice with it.
I absolutely love Natasha's writing! I could totally see every place and thing she described, close to imagining the texture of fabrics and look of food. I totally lost myself in the Asian-inspired world she created and adored every second of it. I could feel how she knows what she's describing herself, which made her world and story feel all the more real. Phenomenal is the world I'd use to describe her writing style – there!
When the world denies you choices, you make your own.
As for the characters? Pretty much the same. Lei felt like a solid, fleshed-out character to me. Someone who sticks to her beliefs, her loyalty always at the front of her mind and her actions proving it on top of that. I admire her and pretty much fell in love with her along the way.
Her friendships and relationships with Aoki and Wren? Even more so! Those felt real and pure; everything you could expect from friendship with fellow courtesans. And more.
Which brings me to the aspect I adored, adored, adored. The romance. The beautiful, slow-burn sapphic romance. I squealed – not even denying that anymore. I was blown away by how pure and honest Natasha portrayed this f/f romance. Sometimes I expect these to be all about the physical aspect of love – because I've read quite a few of those and.. ugh.. -, but that was so not the case in Girls of Paper and Fire. Femininity was honored in the best way possible and I lived for it. That alone makes me want to slam this novel in all of your faces to READ IT ALREADY.
And that's not even all. By now, most of you know of my history with sexual assault so you could say it's one of my triggers. I simply have to make sure I'm in the right state of mind to read a book with that trigger warning – as was the case with Girls of Paper and Fire. Being a Paper Girl is all about pleasing the King when he requests your company and.. Well.. A whole lot of this story focuses around just that. Having to endure that assault, having to stay true to yourself, not losing yourself and trying to find yourself if you do. It's about survival, about holding on and fighting. But more than anything else, this story proved to me – once again – how sexual assault is so much more about power than about anything else. The power someone holds over you, tries holding over you and the power you have to reclaim to find yourself again.
Because no matter how brave I might try to seem, really the heart that beats within my rib cage is weak and broken and scared, and I am just a human girl kneeling before her demon King.

The only small remark I have, is how I wished Aoki would've had a more pronounced character. I understood how she came to be her specific person during the story – it made sense – but.. I was missing some more evolution to witness myself – if you know what I mean? That's the only thing I can think of that was "less". And I'm not even faulting this story for that because I loved so many aspects that I simply don't care and want to give it five cupcakes anyway!
We might be Paper Girls, easily torn and written upon. The very title we're given suggests that we are blank, waiting to be filled. But what the Demon King and his court do not understand is that paper is flammable. And there is a fire catching among us.

Good skies.. Do I even have to conclude this? I loved every aspect. The writing is phenomenal, the topics Natasha incorporated in this story are present day struggles that should be addressed as often as possible and.. overall this is a story so close to my heart and soul I wish everyone would read it.
What do you think? Are you excited for this one? Are you going to read it?
What are topics you love seeing in novels?
What subjects aren't talked about enough and should be mentioned more?
Quotes are taken from an uncorrected proof and might differ from the finished copy.