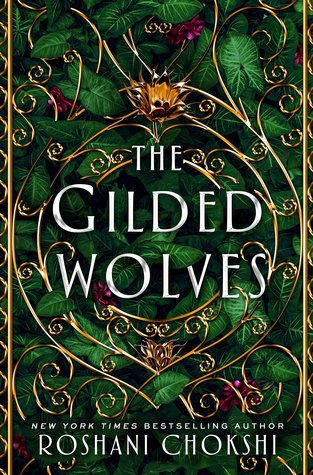 TITLE: The Gilded Wolves
AUTHOR: Roshani Chokshi
RELEASED: January 15, 2019
PUBLISHER: Wednesday Books
FORMAT: eBook
GENRE: YA Fantasy, Historical Fiction
GOODREADS RATING: 4.02
TRIGGERS: Mental abuse, physical abuse, racism, death of a loved one
SYNOPSIS
Paris, 1889: The world is on the cusp of industry and power, and the Exposition Universelle has breathed new life into the streets and dredged up ancient secrets. In this city, no one keeps tabs on secrets better than treasure-hunter and wealthy hotelier, Séverin Montagnet-Alarie. But when the all-powerful society, the Order of Babel, seeks him out for help, Séverin is offered a treasure that he never imagined: his true inheritance.
To find the ancient artifact the Order seeks, Séverin will need help from a band of experts: An engineer with a debt to pay. A historian who can't yet go home. A dancer with a sinister past. And a brother in all but blood, who might care too much.
Together, they'll have to use their wits and knowledge to hunt the artifact through the dark and glittering heart of Paris. What they find might change the world, but only if they can stay alive.
I was in total awe of the cover the first time I stumbled upon The Gilded Wolves. As you all know, I'm usually not that big on historical fiction but.. First the cover, then the blurb and.. I was sold? I've only been to Paris once, but I'd love to go back one day. Reading a book set in a city I want to explore more myself? Sounds like a win to me!
And a win it was, people. It took me a bit to get into the story, but that has way more to do with my life being hectic and all over the place. Once I got out of that small slump – if you can even call it that – I got pulled into the story and hardly stopped reading! I wouldn't say the writing or story is fast-paced, but it definitely isn't slow either. It flows fluently in a way that's very enjoyable to read.
The setting? Paris? All the pluses towards that. I could actually envision some of the things mentioned and described. I could see myself staring up at the Eiffel Tower, not to mention almost smell and taste the pastries and cookies mentioned in the book! The use of the French terms / words definitely helped to lose myself in the Parisian setting as well. I love it when authors take the time to add small elements like that.
Everything about him had been so carefully put together. But it didn't matter how well one's clothes fit if the skin didn't.
I've been trying to make up my mind about my favorite character in The Gilded Wolves, but I still can't decide. Séverin is very focused on getting what he deserves, on what's taken from him. Definitely has his charms. Enrique and Tristan are both very unique in their characters as well. Tristan being the more sensitive one, while Enrique is.. well.. Enrique, hah. Then there's Laila and Zofia. Both strong, female characters you're bound to admire and adore! And Laila bakes – just saying. I wish I could get one of her sugar cookies to be honest. In the end, I have to say my weak spot definitely belongs to Zofia. Can't help it.

All in all, there's simply a very diverse cast of characters. They're all different, unique and have their own voice – made even clearer by the switching POV's. Apart from that, they're actually diverse in the way I know we all love! Half-Algerian, Filipino, Jewish, queer, autistic, POC and more!
The thing I loved most about this novel though? The slow, slow romance. There's history on that front, which makes the romantic aspect even more intriguing since it feels like this slow dance of two characters coming closer while still staying apart and.. I don't know.. It really got to me, had me rooting for them and.. it's been a while since I felt so passionately about a slow burn romance.
Don't be sad. Everyone hides.

The one thing I struggled with – and have seen mentioned in other reviews since reading the book – is the lack of world-building. People say you're pretty much thrown in there, trying to figure things out on your own and I have to agree. There are plenty of explanations and world-building along the way but it simply doesn't feel like it's enough. I need more of it, especially at the start of the novel so you can get a feeling of the world you're about to enter. It's a pity this wasn't done differently really! I think I would've enjoyed it just that little bit more if the world hadn't felt off and all over the place at times.
Nothing was invincible but change.
I honestly thought I wouldn't be adding anything else to this review – since I write my reviews while reading, sometimes I don't add anything else after finishing it – but I was wrong this time around. The thing is I really need to mention the ending. It was so.. predictable and I was hoping it would not end the way it did but.. alas.. And I'm honestly so disappointed, but.. I still want to see where the story will go in the sequel?

Apart from the "negatives", I still thoroughly enjoyed reading The Gilded Wolves and read it in no time, once I was into it and not distracted by other things. Definitely worth a read for people enjoying fantasy set in history, people loving slow burn romance and people who want diverse characters!
What are some elements in books you can't ever say no to?
Diversity? Certain settings? Tropes?