Truth be told, it was to be expected.. My due date is quickly coming closer and we're still busy getting our home ready for the little one to arrive. In between work, remodeling and trying to relax, there's family time as well. Juggling it all and trying to squeeze in reading time is proving to be quite the struggle!
But, we're almost there. At least I am. My pregnancy leave starts next week, which means I'll be able to focus on myself a bit more and, hopefully, that equals relaxing reading time. Fingers crossed!
But for now, let's see how my reading went this past week.

As always, covers link back to the Goodreads-page, so feel free to check them out!
I finished one of my previous current reads, the other one's still stuck. I'm honestly not feeling Christmas Cookie Baby at all. The characters are giving me whiplash and.. well.. Let's just say I'm wondering whether I'll even bother writing a review? Daughter of the Burning City isn't proving to be a success either. I thought I'd get lost in a magical circus-like city but.. nope? I'm not feeling it, and since that's the second book I'm wondering whether it's the books or me being the issue..
On a positive – and equally negative – note, I did finish Godsgrave and, my lord, was that a ride once again! I did see some twists coming but that didn't take away from my reading experience at all. Mia's badass and.. so.. real at the same time. Loooove it. And I want more Ash! Too bad the wait is still so long.. On the other hand, that means some extra time to mentally prepare myself. I have this feeling Kristoff will ruin us all.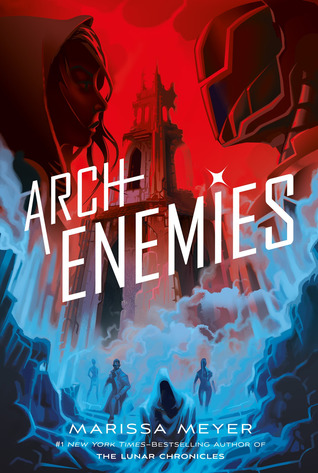 I didn't pull any other notes from my jar, which means Archenemies is my next read – or supposed to be! I might just pick up one of my ARC's instead though.. We'll see! Or maybe succumb to the temptation of The Wicked King?
What are you reading right now?
What's the last book you finished? How did you rate it?
If you have a WWW-post of your own, feel free to leave it in the comments!