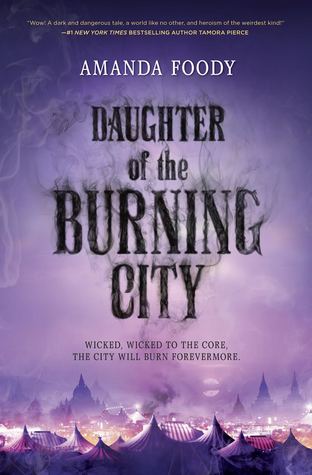 TITLE: Daughter of the Burning City
AUTHOR: Amanda Foody
RELEASED: July 25, 2017
PUBLISHER: Harlequin Teen
FORMAT: Hardcover
GENRE: YA Fantasy
GOODREADS RATING: 3.76
TRIGGERS: Death of loved ones
REPS: LGBTQIA+
SYNOPSIS
Sixteen-year-old Sorina has spent most of her life within the smoldering borders of the Gomorrah Festival. Yet even among the many unusual members of the traveling circus-city, Sorina stands apart as the only illusion-worker born in hundreds of years. This rare talent allows her to create illusions that others can see, feel and touch, with personalities all their own. Her creations are her family, and together they make up the cast of the Festival's Freak Show.
But no matter how lifelike they may seem, her illusions are still just that—illusions, and not truly real. Or so she always believed…until one of them is murdered.
Desperate to protect her family, Sorina must track down the culprit and determine how they killed a person who doesn't actually exist. Her search for answers leads her to the self-proclaimed gossip-worker Luca, and their investigation sends them through a haze of political turmoil and forbidden romance, and into the most sinister corners of the Festival. But as the killer continues murdering Sorina's illusions one by one, she must unravel the horrifying truth before all of her loved ones disappear.
I received this book in a past FairyLoot, but never got around to reading it. Since I absolutely loved The Night Circus and Legendary – I did like Caraval, just not as much -, I figured it was time to pick up Daughter of the Burning City. Anything to have some whimsical, circus-y setting, right?
And that's definitely one of the top things I liked about this novel! If there's one thing I wholeheartedly agree with, it's people saying Amanda Foody's writing is beautifully descriptive. I wouldn't compare it to Morgenstern's style in The Night Circus, because that's a whole different level, but Foody definitely creates magic! The entire setting – a moving circus / carnaval and at the same time a city?! – was perfect.
Not only that, though. The second thing, and probably even more important, is the diverse cast of characters. Not only is one of the side characters openly lesbian, there's also another character who's – I looked this up because I'm still trying to find my way in all the different labels out there – either demisexual or, according to some others, a demiromantic asexual. I honestly don't know for sure myself, and should I be wrong here, do correct me on this! In any case, I love seeing diverse rep and this book truly delivers.
Freak may be the only word to describe a misfit in an entire city's worth of misfits.
Which brings me to our characters. Our main character, Sorina, is definitely a personality all on her own. She's blind, yet she can still see and she's able to create illusions. On top of that, her entire family consists of her own illusions made real. They all have some power and, most of them, some kind of physical weirdness as well. Two heads or covered in nails and things like that. That's not all there is to her, though. She's pretty fleshed out and her love for family? Totally appreciated that! She'd do anything to protect her family – so much so you sometimes forget they're illusions. 
My favorite character, by far, is Luca. He's brilliantly rude, blunt and arrogant, yet never in an annoying way. On the contrary, he's probably the sole reason I couldn't stop reading? I wanted more of him! Wanted to crawl inside his head and understand him better. Might be because he reminded me of Rhysand a little bit?
They say pressure can turn even a grain of sand into a pearl under the right circumstances.
Unfortunately, that's where it ends. Looking back to what I've written in this review so far, I feel like it was well on its way to be a good one, but.. alas.. There are things I have some issues with and the biggest of all? Is my feeling "meh" about the book throughout my reading it, non-stop. There were moments where I started to lose myself in the story, but it never actually happened. I didn't feel what I was reading the way I usually do. It felt off and I didn't even know the exact cause. That is, until I started writing this review.
Apart from that, I also.. didn't.. quite connect with all other characters? I did with Sorina in some way, enjoyed Luca way more but when it comes to everybody else.. It's just that. Everybody else. I didn't feel like I got to know them properly. Maybe because in my mind I had this thing where "illusions!" kept repeating itself, but.. I honestly think it's because they weren't fleshed out properly, didn't get a big enough spot in the novel. Please, if you've read this and feel differently, let's talk about it!
When the fairy tales spoke of butterflies, I didn't anticipate it feeling more like hornets.
Then there's world-building and plot. World-building was.. lacking, in my opinion. We got the history of Gomorrah, but I never felt like I truly understood the world Foody created. Why there is magic, why some are born with it while others aren't, how Sorina can see without having eyes, and.. well.. more questions. I wanted to understand more of it, but never got any answers.
When it comes to the plot, I found it all over the place. Something happens out of  the blue, nobody really knows what's going on, people make their own conclusions without actually.. making a lot of sense as to the why and then.. suddenly we're trying to solve these murders in different ways without.. actual clues? Where are the clues?! Seriously?! On top of that, I pretty much figured out who the murderer was very early on and ended up being right. I hate when that happens. Okay, it does feel good sometimes but overall it's annoying to figure it out that quickly.

Even though it's a promising novel, I know it could've been so much better with some adjustments made to it. It's an enjoyable read, sure, but it's missing some things I want to see in fantasy novels – especially standalones like this one.
Have you read Daughter of the Burning City? What did you think?
What are some things you absolutely need in a standalone fantasy novel?