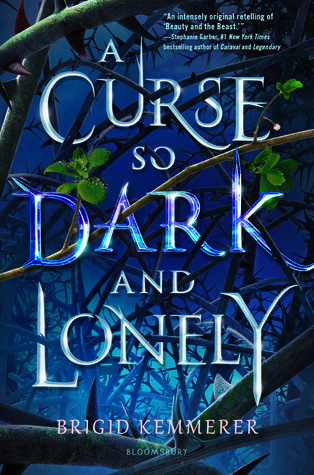 TITLE: A Curse So Dark and Lonely
AUTHOR: Brigid Kemmerer
RELEASED: January 29, 2019
PUBLISHER: Bloomsbury YA
FORMAT: Hardcover
GENRE: YA Fantasy, retelling
GOODREADS RATING: 4.27
TRIGGERS: Beheading, torture, emotional torment
REPS: Cerebral palsy, queer side characters
SYNOPSIS
Fall in love, break the curse.
It once seemed so easy to Prince Rhen, the heir to Emberfall. Cursed by a powerful enchantress to repeat the autumn of his eighteenth year over and over, he knew he could be saved if a girl fell for him. But that was before he learned that at the end of each autumn, he would turn into a vicious beast hell-bent on destruction. That was before he destroyed his castle, his family, and every last shred of hope.
Nothing has ever been easy for Harper Lacy. With her father long gone, her mother dying, and her brother barely holding their family together while constantly underestimating her because of her cerebral palsy, she learned to be tough enough to survive. But when she tries to save someone else on the streets of Washington, DC, she's instead somehow sucked into Rhen's cursed world.
Break the curse, save the kingdom.
A prince? A monster? A curse? Harper doesn't know where she is or what to believe. But as she spends time with Rhen in this enchanted land, she begins to understand what's at stake. And as Rhen realizes Harper is not just another girl to charm, his hope comes flooding back. But powerful forces are standing against Emberfall . . . and it will take more than a broken curse to save Harper, Rhen, and his people from utter ruin.
GOODREADS – AMAZON.COM – AMAZON.CO.UK
These are not affiliate links!
I can't even put into words how much I was looking forward to reading A Curse so Dark and Lonely. I read Brigid Kemmerer's Elemental-series way before I even joined the bookish community, then discovered Letters to the Lost and More Than We Can Tell – two books that made me an even bigger fan of her writing. Then I heard there was a Beauty and the Beast-retelling coming our way? Me? Who's been a fan of retellings ever since I discovered them? Well.. Fangirling Kathy was in the building for sure!
I'm going to try and write a decent review here, but since my phone – with all my review notes on it – fell into a bucket of water and I failed at having a back-up.. Let's just say I'm hating myself right now. I'm also posting this review way too late but I was still in the middle of writing it when the baby was born so there's that, haha.

Let's start with the one thing I knew wasn't going to disappoint – and something I usually mention first: the writing. There are books you fly through, and then there are those books you absolutely fly through. A Curse So Dark and Lonely definitely fits the latter. I finished it in two days – two days! I simply couldn't stop reading.
Not only that. The story is set in both our world and a fantasy world that runs parallel with ours. The way Brigid combines nowadays language – when Harper, our main character, is speaking – and more classic, "older" language when the characters of the fantasy world are talking.. It added so much to the story and is a truly unique aspect I hadn't seen before.
I am always surprised to discover that when the world seems darkest, there exists the greatest opportunity for light.
Obviously that also had a whole lot to do with the plot. The action and events followed one another seamlessly, which made it hard to quit reading for even a second. I kept wanting more and.. don't you love it when that happens when reading? I sure do! Plot-wise I don't really have a lot more to say. Except maybe: Brigid, you blew me away! This take on Beauty and the Beast is way darker than I expected it to be – in a "you crushed my expectations and soared way above them"-kind of way.
I mentioned our main character, Harper, already, but didn't mention how she has cerebral palsy. I was afraid this would be very focused upon, as is often the case when there's a character with some kind of illness or disability, but I shouldn't have worried! It's a part of Harper, sure, but that's it. She's more than that and Brigid has shown that beautifully. We're all more than one characteristic after all.
There is blood under my fingernails. i wonder how many of my people I've killed this time.
Apart from the diversity – queer side characters, y'all! – all the characters are complex and layered. I'm pretty sure all of them evolve or change in some way throughout the book. Bonus? It's in a way that doesn't feel forced at all. Some authors tend to push their characters in a certain direction, but in A Curse So Dark And Lonely it's very obvious Brigid simply lets her characters grow by themselves.
The ending? Loved it! I did see it coming, knew how it was going to end, what twist was heading my way but I didn't mind it one bit because I wanted that certain thing to happen? Which is a first for me, since I usually want to be surprised! I cannot wait for the sequel; that's for sure.
This was never a curse to be broken. This is a death sentence. The true curse has been the thought that we might find escape.


I cannot say anything else but "I absolutely freaking loved this book and will definitely reread at some point" since.. that's the truth. I waited ages for it to be released and, even though it's always a risk, it didn't disappoint at all. At this point, I'm all for saying I don't care what Brigid Kemmerer writes, I'll love it anyway!
Have you read this amazing book? Are you planning on it?
What's your favorite fairy tale? Or fairy tale retelling?