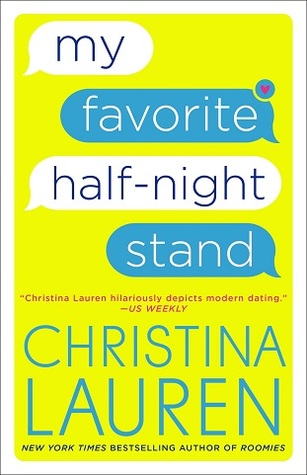 TITLE: My Favorite Half-Night Stand
AUTHOR: Christina Lauren
RELEASED: December 4, 2018
PUBLISHER: Gallery Books
FORMAT: Paperback
GENRE: Adult Romance
GOODREADS RATING: 3.86
TRIGGERS:
REPS: 
SYNOPSIS
Millie Morris has always been one of the guys. A UC Santa Barbara professor, she's a female-serial-killer expert who's quick with a deflection joke and terrible at getting personal. And she, just like her four best guy friends and fellow professors, is perma-single.
So when a routine university function turns into a black tie gala, Mille and her circle make a pact that they'll join an online dating service to find plus-ones for the event. There's only one hitch: after making the pact, Millie and one of the guys, Reid Campbell, secretly spend the sexiest half-night of their lives together, but mutually decide the friendship would be better off strictly platonic.
But online dating isn't for the faint of heart. While the guys are inundated with quality matches and potential dates, Millie's first profile attempt garners nothing but dick pics and creepers. Enter "Catherine"—Millie's fictional profile persona, in whose make-believe shoes she can be more vulnerable than she's ever been in person. Soon "Catherine" and Reid strike up a digital pen-pal-ship…but Millie can't resist temptation in real life, either. Soon, Millie will have to face her worst fear—intimacy—or risk losing her best friend, forever.
GOODREADS – AMAZON.COM – AMAZON.CO.UK
These are not affiliate links!
I have some authors I've been loving from way before I ever started my blog, let alone joined the bookish community. Christina Lauren is definitely on that list so I couldn't pass up the chance of reading My Favorite Half-Night Stand, could I? Especially after Destiny writing such a glowing review about it!
Like I said, it isn't the first book I read by these authors – by far. And if there's one thing I always know upfront, it's how their writing never disappoints. You can have author collaborations where the different writing styles are very obvious, sometimes even clash. Christina Lauren? No such thing!
My Favorite Half-Night Stand is very much a love story, but the presence of friends is a huge plus as well. Seeing how our main characters have their own ways of communicating with the same friends was something I enjoyed. Having both their POV's definitely helped that along as well.
Reid and Millie were fairly easy to connect with, although I surprisingly connected with Millie more than I anticipated at first. As her, I sometimes find myself having difficulties with expressing myself – although in a less pronounced and obvious way. I'm also more comfortable around men than I am around women, which is definitely something I love seeing in books. That way I don't have to feel like the odd one out all the time, you know? There's some representation I'd love to see more, haha!
The thing I liked most about this book, though? How things did not come to a dramatic explosion like they usually do in romance / contemporary novels. It's one of the things that's so common in books that having it "missing", is very refreshing to say the least. It's also more realistic, in my opinion. Definitely one of the biggest positives!
I'm lonely because I don't tell people what I need or what I want, and then get hurt when they don't figure it out on their own.


Gotta say it – this was another funny and pretty cute read. And entertaining! Safe to say I'll be keeping Christina Lauren on my list of favorite authors.
IHow do you feel about authors collaborating? Fan? No fan?
Duo's that work magic in your opinion? [Yesyes, Kristoff and Kaufman!]
Or mash-ups that failed big time?